Adolescents.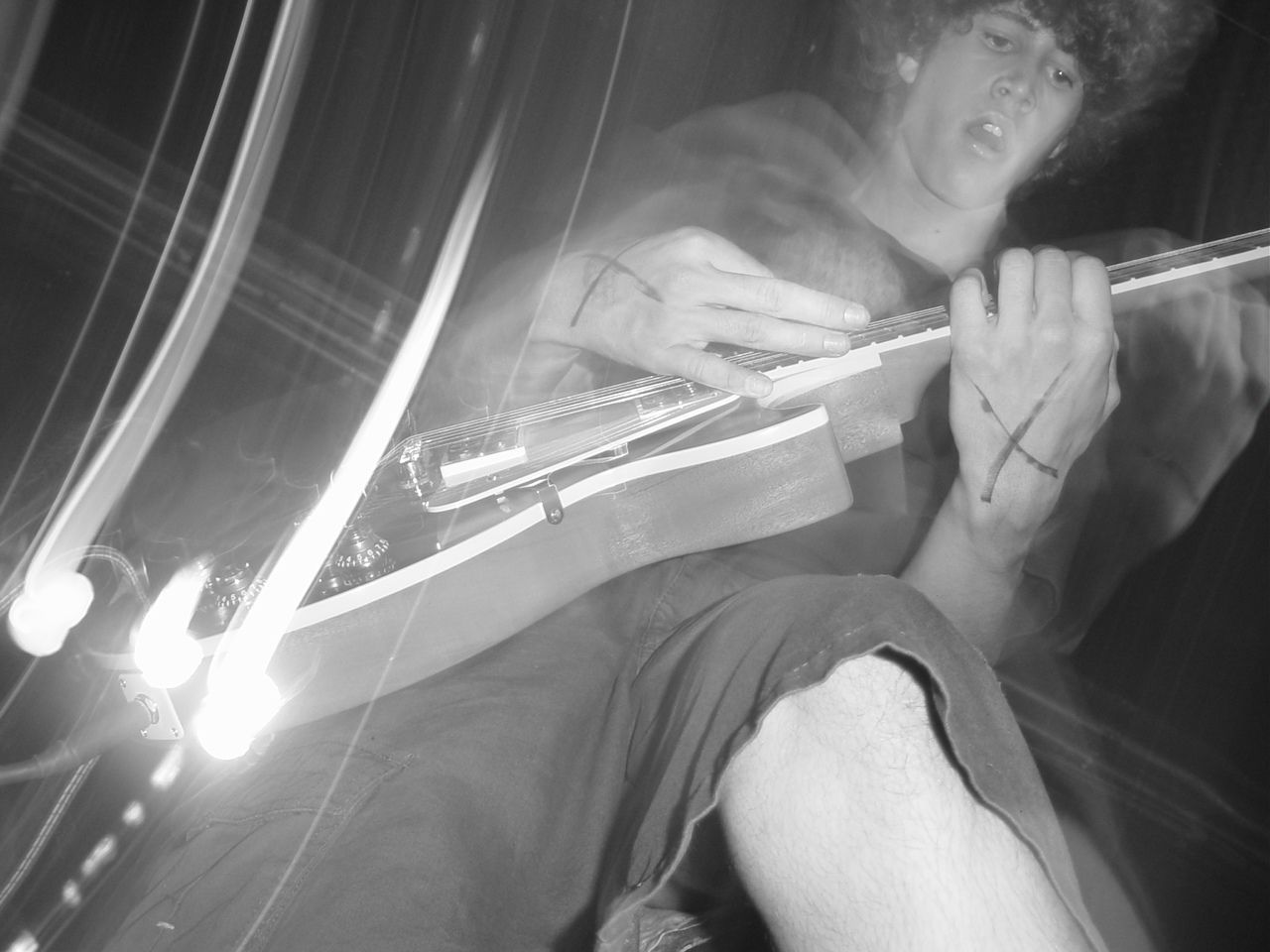 So we got to the Black Cat early enough that there was still a lineup of 16-18 year olds in Suicide Machines gear, who were obviously there and stoked for the wrong band. Or maybe I was just mad that none of the people who I thought should be at this show were there. At any rate, I got in line and started psyching myself up about how fucking amazing the show was going to be.
Much the same was the situation for the Suicide Machines but with more humour from a severely inhebriated Eric and some funny skanking/ska renditions courtesy of Evir and Mr. Warthog. This is when I was told that Frank Agnew wouldn't be there due to some kind of knee injury which prevented him from doing any of the east coast tour, and would instead be replaced by a 15 year old kid from Wrecking Crew. I started to worry that the show wouldn't be that great as I wondered how a little kid could possibly be playing these songs as well as someone who'd been playing them for 20 years. The place cleared out a bunch and I made my way to the front of the stage where I watched them set up.
My excitement was almost uncontainable as they got up on stage and picked up their instruments. At first I thought that Tony Adolescent was a roady or something, just cause he looks like that type, a 40ish chubby dude with puffy hair grabbing the mic. Two teenagers grabbing the guitars and a Pig Championesque guy grabbing the bass.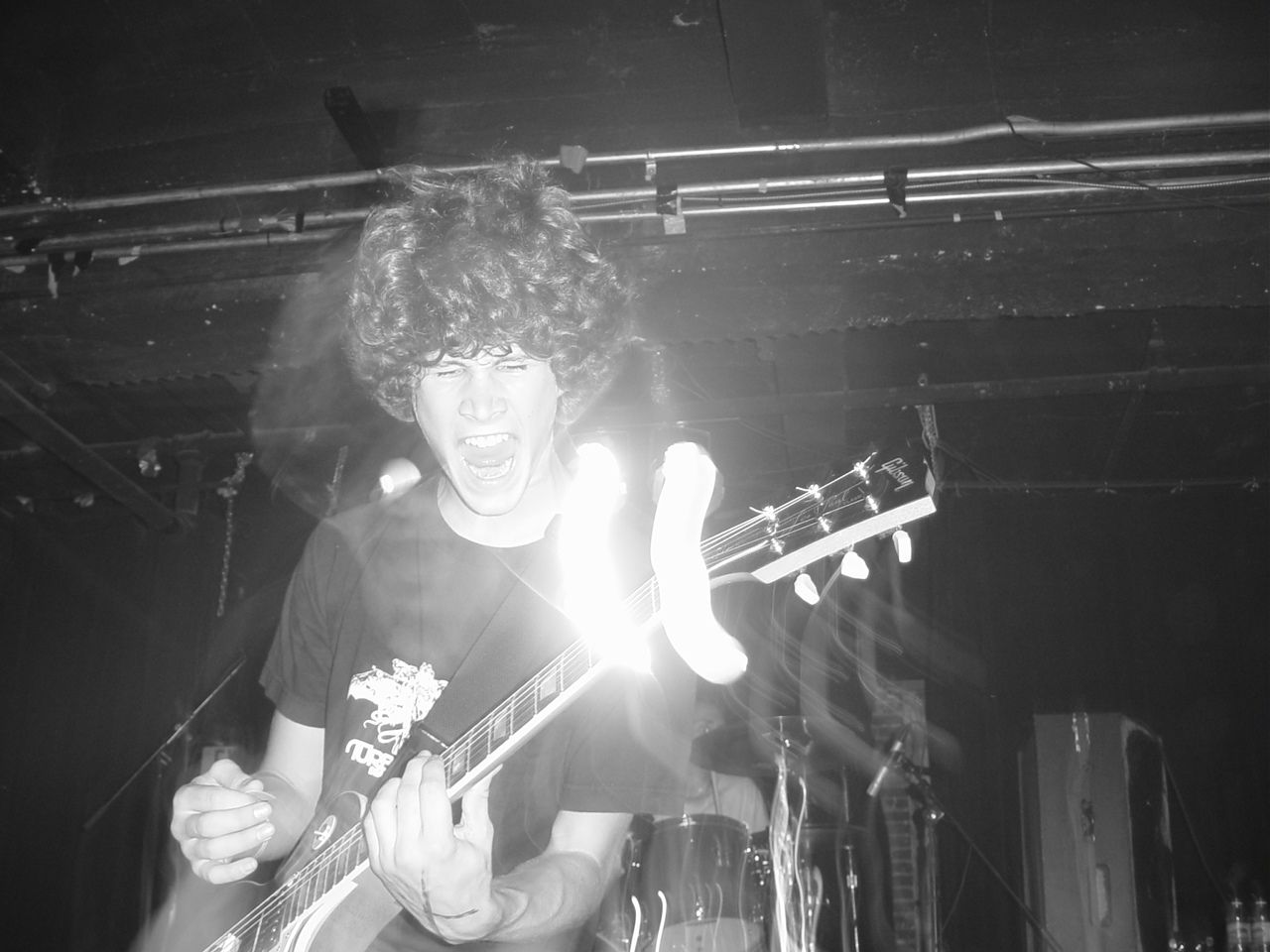 I looked at Eric and then Daniel and smiled and was about to explode as the amps lit up and the opening chords of No Way came blaring out of the amps. This kid was dead fucking on. The opening chorus of "NO WAY!" burst out and his face was inches from ours as he screamed it out in unison with us before whipping back and shredding the rest of the opening lead. I can't say what the rest of the crowd was doing, but the people I was standing with were doing the exact same thing I was, standing in awe fists in the air belting out every single word to the song. Next up was Who Is Who, and as God is my witness, I have never got this song more. The fact that, even if he doesn't feel that way anymore, he could belt out those words with such conviction and meaning after 20 years was a sight to behold. I don't think I've ever sang along so hard as I did with "In front of a class of gawking fools that'll never understand." That line has been embedded in my mind ever since I first heard the blue album. Self Destruct was next which sounded as frantic as I imagine it would've 20 years ago with a few hundred kids circle pitting and stagediving. Slowing down a bit they went into Democracy, which I'll confess has never been one of my favourite Adolescents songs, and I took the time to have a little breather and look around. It seemed most of the crowd was doing the same, not bored by any means, but taking the time to see if everyone else was as blown away as they were by the opening three.
Next was a song called Lockdown, which I don't know at all. It was awesome, and I assume that it's on the new CD, since it's not on the first two, or the EP. Then the almighty Creatures. This was another one of the songs that the guitarist totally was losing his mind over, as were the rest of us. He was in our faces screaming Creatures along with us and having just as good a time as we were, which is always rad to see. Do The Freddy off "Brats In Battalions", which is so overlooked, led into LA Girl which I was mostly unable to enjoy as much as I should've due to some girl pestering me to let her take pictures despite my having been totally ignoring her and brushing her off for the set thus far.
OC Confidential another new track was introduced as being about Tony's brother getting his head kicked in by multiple skinheads at some point for apparently being gay. Apparently the thing that stuck out most about his brother telling him the story was that he said 'they kept on kicking me again and again and again' which is apparently where the chorus comes from. That said I think that this song easilly holds up to their earlier material. I love the new EP and this is one of my favourites's on it. I had it stuck in my head for two days after the show. Another slowdown with Welcome To Reality, which I feel drags on, then to Rip It Up, which did in fact rip it up. Then Word Attack, which was so fucking fast I can't even talk about it. I'm no slouch on singing fast, I can keep up with Slayer, DRI, or any of the other stupidly fast songs by stupidly fast bands but I could not for the life of me keep up with him on this song. It was mind boggling. It might have something to do with the fact that I only know 3/4 of the words, but I'm not sure. Losing Battle was up next and was number two on my list of songs they HAD to play. Just for the ending scream that he does on the Return To The Black Hole version of it. The pure anger and emotion that he growls out with that, I had to see if that was just a perfect recording of it; or if that was something that he could reproduce. I am happy to say that I was not disappointed. It was just as potent as it is on that live recording. I was floored and if I had to could've walked away happily if I had to.
Another new one to begin the last bunch, was California Sun. The verses of it are so good, but the chorus is too happy for how dark the song is and kind of breaks the mood a bit. At least on CD it does, live it was perfect. The whole show was perfect. Wrecking Crew was up next and if I hadn't seen the set list and knew what was coming up I would've risked being thrown out while this was playing but I wasn't prepared to miss Kids Of The Black Hole so I stood there and nearly broke my hand punching the stage along with the song.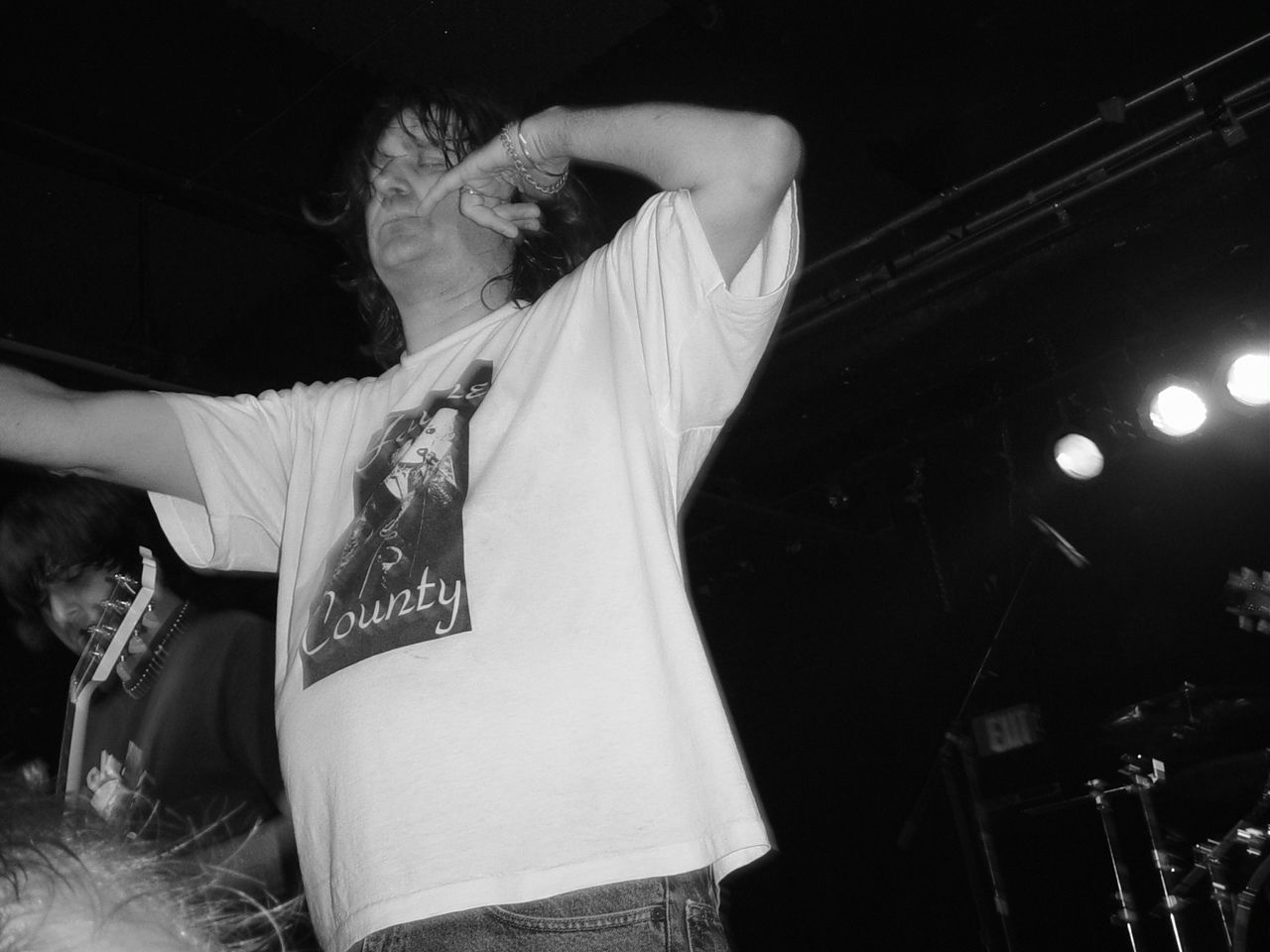 Amoeba was next and everyone went nuts. I don't get why EVERYONE loves this song so much. Yeah it's good, but it's not that good. It did however showcase some pretty good poses from Tony Adolescent as shown to the left. After all, it was reaching out on the telephone. The headshakes he had while pretending to be on the phone were classic. The photo really doesn't do it justice.
Kids Of The Black Hole... I really don't even know where to start with how fucking amazing this was. The two younger people in the band in such contrast to the rest of the band just made it more amazing. It was something I am so fucking glad I got to see. It's one of the most epic songs in my life, and seeing it live, with everyone in the band having as much energy as they did for this was something I don't think I'll ever forget. The song is one that has so much meaning to me and has been one of the songs that has always made me realise just how much I love being involved in this lifestyle no matter how down I am, or how much I hate everything that's going on at any given time. This is just one of those songs that ever since the first time I heard it the effect it has on me hasn't changed. It still shakes me as much as it did then, and still brings goose bumps to my skin. It honestly nearly brought me to tears I was so fucking into it.
The encore consisted of Things Start Moving, something else and then the classic I Gotta Right, which was another song that was as good this time around as it was on the Return To The Black Hole cd. I'm not a huge Stooges fan but this song is so good that it's no surprise it's been covered by every punk band in history at one point or another. I could feel it baby.
I was bummed that all the dudes from Winnipeg weren't there, but at the same time couldn't be upset about it because the show was so fucking good. We sat around for a few minutes after they walked off stage, trying to form sentences to express how amazing the show was. It was the best thing I've ever seen live. I've never felt so stoked after a show. It fucking blew my mind.
I can't wait to see them again.